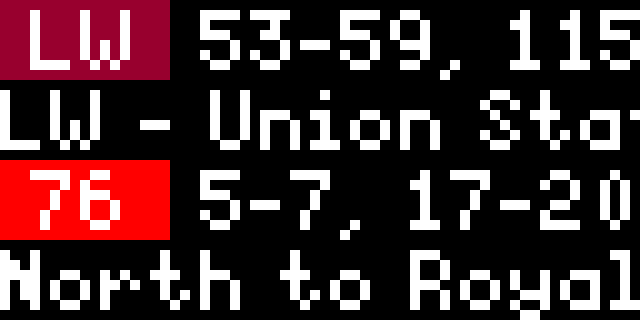 TransSee supports transit predictions on Tidbyt digital displays. It supports all transit agencies supported by TransSee and including history based predictions.
Support for Tidbyt requires TransSee Premium. Tidbyt owners can get two weeks free premium by copying and pasting their API ID in the form below and this browser will automatically be activated. The get the API Id open the settings for the device in the Tidbyt app on your phone, and tap Get API key. After that premium is available for $20 for six months, $12 for three months or $1 for a week. All prices in Canadian dollars.
Here are the steps to get predictions on your Tidbyt:
Click on or copy and paste the link from the premium email into the browser you intend to use to select your stops.
Go to your TidByt app, activate the TransSee and enter your premium user id. It can be found in your premium email.
You can the go to the TransSee homepage and select your agency, route and stop. Then click on the "Send to TidByt" button and the prediction should appear on your TidByt within a minute. If you don't see the "Send to TidByt" button refresh after a minute.
Tips and information
Predictions for up to four stops can be displayed and includes the destination if there are less then three stops. Additional stops can be added with the "Add stop" link at the bottom of the prediction list.
You can bookmark or add to home screen you usual stops for quick access.
Your prediction should be shown for 30 minutes or may be removed by clicking on the "Remove from TidByt" link at the top of every page. The timeout period can be modified or removed in the Settings.
You can select a minimum prediction time which will not show prediction less then that value. The default can be changed in the Settings.
Predictions will have arrows showing the direction of the branch the vehicle is operating on.
Feel free to contact me by email to report problems or make suggestions.
Settings (enable more features)
Stops near me by GPS going North East South West
TransSee by Darwin O'Connor. Follow on Twitter.